Bayview Community Center
The Bayview Community Center
is available for your events.
Please call (208) 683-8040 for more information.
Bayview Chamber
of Commerce
To join the Bayview Chamber of Commerce,
you may print this
and mail to:
Bayview Chamber of Commerce
P.O. Box 121
Bayview, Idaho 83803
Bayview Chamber
Reader Board
Reader Board is for rent.
Download form for instructions.

Bayview, the perfect escape for fun and relaxation, is nestled along the southern shores of Lake Pend Oreille. Surround yourself with natural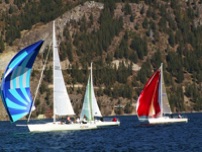 Recreation in Bayview, Idaho
Surround yourself with natural beauty at the largest lake in Idaho and enjoy abundant recreational possibilities. Lake Pend Oreille offers over 200 miles of beautiful fresh water shoreline and stretches over 42 miles from Bayview to Sandpoint. You can indulge your adventurous side with water sports including
fishing, boating, water skiing, and swimming. If you don't want to get your feet wet, there are plenty of other attractions including camping, hiking and exploring, biking and great hunting in the fall.
Farragut State Park, nestled at the foot of the Coeur d'Alene Mountains in the Bitterroot Range, is just 4
miles to the west of Bayview. Moutain Goats At 4,000 acres, it is one of Idaho's largest state parks and borders Lake Pend Oreille. Because of its size and variety of available activities, Farragut State Park is excellent for hosting large gatherings. The Park features a small beach, a trail network connected to Bayview, and a Disc Golf Course. It is also an excellent wildlife viewing area,
home to whitetail deer, badgers, black bears, coyotes, bobcats, and an occasional elk.
Discover why the residents of Bayview say it's a great place to live, work, and play.