Bayview Community Center
The Bayview Community Center
is available for your events.
Please call (208) 683-8040 for more information.
Bayview Chamber
of Commerce
To join the Bayview Chamber of Commerce,
you may print this
and mail to:
Bayview Chamber of Commerce
P.O. Box 121
Bayview, Idaho 83803
Bayview Chamber
Reader Board
Reader Board is for rent.
Download form for instructions.

Bayview Chamber of Commerce
Mission Statement
To enhance the small town atmosphere while promoting economic growth without compromising our natural resources.
To the friends of Bayview,
The Bayview Chamber of Commerce would like to take this opportunity to invite you to join us in helping to keep our community a great place to live. The Chamber is both a business-oriented and a community-oriented organization. The Chamber members get together once a month in a town-meeting style format that takes action on complaints and suggestions from residents and businesses. Some of the issues the Chamber has addressed in recent years are:
COMMUNITY ISSUES
• Actively supported a Senior/Community Center (which ultimately resulted in State and private grants that
allowed for its construction). Continue annual donations to the center.
• Supported Bayview Water and Sewer District (which resulted in the building of the present sewer
system). Also extending Bayview water to Cape Horn.
• Addressed the need for our own control over zoning issues (the Chamber has been directly involved with
the County and its Comprehensive Plan).
• Sponsor of the Avista Utilities Bayview natural gas and the Verizon cell phone tower feasibility studies.
• Applied for and received grant for 5 streetlights in Bayview. Sponsored the entire cost of the electricity for the lights from 2005-2011. The chamber now manages the "adopt a streetlight" sponsorship program
to pay the electricity to maintain the streetlights
• Sponsor for the removal of selected trees to form a firebreak between Farragut State Park and Bayview.
• Sponsors 2 Lakeland School District students to attend Girl's State each year.
• Supports the development of the Garden Park adjacent to the Community Center and participated in the
fund raising and planning for completion of the Tot-lot in Bayview in cooperation with Kootenai County Parks.
• Supports the ABC Food Bank with donations collected at every chamber meeting.
• Support local groups and businesses with their functions to give back to the community.
• Financially sponsors and supports the maintenance and replacement of the No Wake buoys in Scenic Bay.
• Implemented and financially support the Neighbors 4 Neighbors fund to help residents facing hardship issues.
ENVIRONMENTAL ISSUES
• The Chamber has been instrumental in establishing the Kokanee research and recovery effort through the
Northwest Power Planning Council.
• We formed a Community Action Council that persuaded the U.S. Navy to do extensive research on the
effects of their ISMS range through the University of Idaho.
• Lobbied to prevent logging on Bernard Peak and to protect the mountain goat habitat.
• Intervened in the Sage Creek logging operation. This eliminated clear cutting and established a 300' buffer around all streams.
• Formed a committee to participate in the Farragut State Park long-term management plan.
COMMUMITY EVENTS
• Sponsor an annual July 4th celebration including a great fireworks display.
• Sponsor an annual Christmas festival and an annual Easter Egg Hunt.
• We have had speakers address the Chamber meetings on issues such as incorporation, jobs and
employment, noxious weed control, local crime control, improvement of highway district services, Farragut State Park issues, the census, Fire district issues and many other topics. We have many future plans, but we need your input!
• As a non-profit organization, we are supported solely by membership dues and fund-raising activities,
such as our summer holiday pancake feeds, our annual raffle in which we sell 100 tickets at $20 each and split the sales 50/50. The winner gets $1000 and the Chamber donates $1000 to the following year's firework's fund. This fund-raising effort supports many types of worthy causes and has enabled us to help support the operation of the Community Center for the past six years. This, in turn, keeps the cost of using the Center at the absolute minimum.
WHAT CAN THE CHAMBER DO FOR YOUR BUSINESS?
• Facebook Page/Website promotion & representation.
• Sponsorship of Bayview Daze weekend event which brings lots of business to town. This also includes our local parade which businesses are encouraged to participate in.
• The Chamber is a member of the International Selkirk Loop, which draws international attention.
• Various creative ideas and promotions that we communicate to the Nickelsworth and the CDA Press to publicize our various efforts. (Eagle Photo Contest, Bayview Daze, Pancake Breakfast Fundraisers.
• Creation and selling of the Bayview Daze t-shirts, providing opportunity for businesses to have their logo represented. Sponsorship of the Bayview Eagle Photo contest which brings visitor's business to town
and provides exposure.
• Provide business with the chamber logo to use on their correspondence (we have also helped some
businesses create their own individual logos).
• Monthly Chamber meetings held in which businesses can network and be informed of local issues by
quality guest speakers. Businesses are also encouraged to introduce and showcase their business at the monthly meetings.
Membership dues are:
Individual $15.00 per year
Business $60.00 per year
We would sincerely appreciate your support and participation in the Bayview Chamber of Commerce. We meet on the second Tuesday of each month at 7:00 p.m. at the Bayview Community Center. We all look forward to seeing you soon.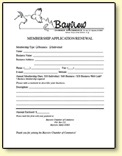 Joining the
Bayview Chamber of Commerce is EASY!
Just click the application
to get started
then mail to:
Bayview Chamber of Commerce
PO Box 121
Bayview, ID 83803-0121